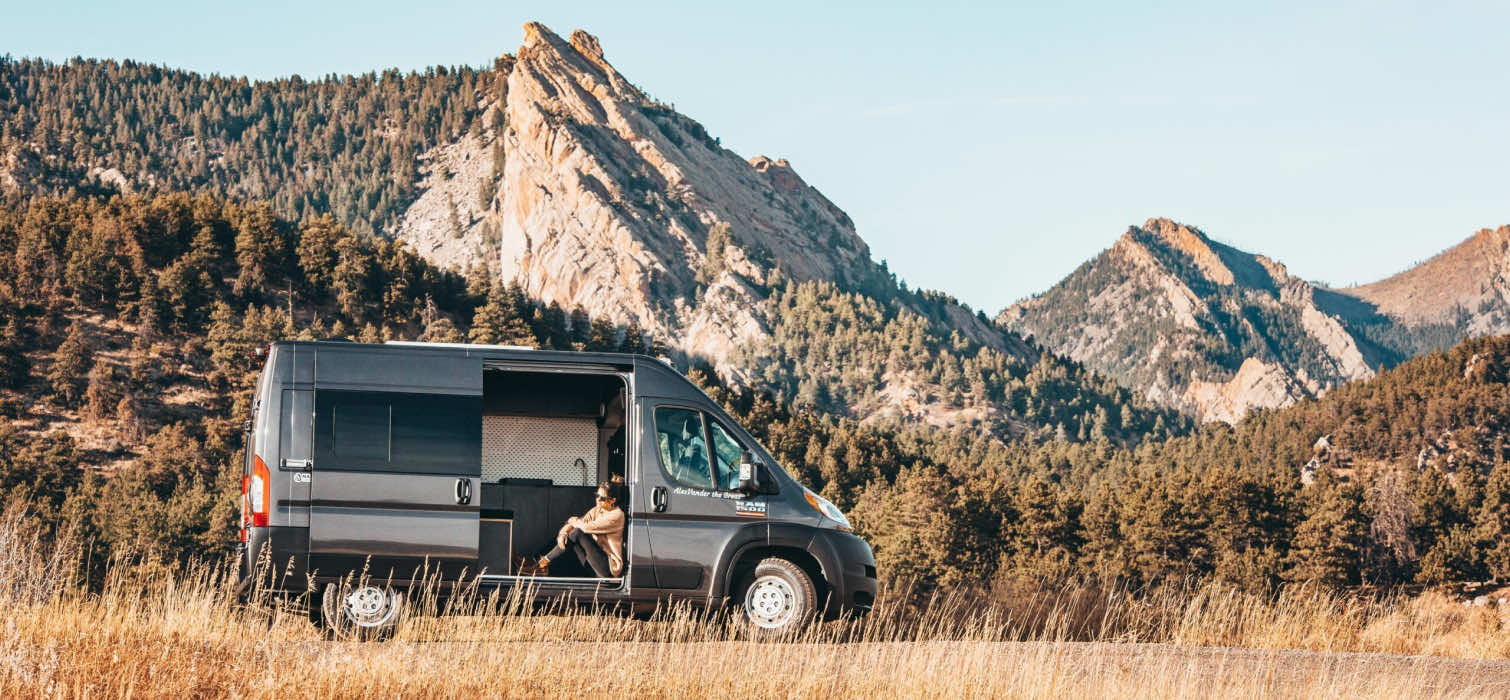 Adventure Made Convenient.
Rent a Campervan.
Hit the road with everything you need to cook, sleep, and chill in style.
Plan Your Trip

The Biggie
Seats 2. Sleeps 2.
The Biggie is our superstar. It's the perfect campervan for a couple (or a few friends) who want to live vanlife to the fullest. You'll enjoy the spaciousness, versatility, and climbing power of our premium campervan. With The Biggie, you get the comfort and amenities of an RV without backing up traffic on mountain passes.
More Info

The Squad
Seats 4. Sleeps 4.
The Squad has room to seat AND sleep a group of four along with proper DOT approved seating to keep the kiddies (and your favorite backseat drivers) safe. When you arrive at your campsite, the interior seats swivel, and an easy-breezy rooftop tent pops up in under a minute to sleep a couple more. Even if those summer monsoons find you, you'll stay warm and dry in the waterproof roof tent and the cozy, log cabin interior.
More Info

The Smalls
Seats 2. Sleeps 2.
The Smalls is a sporty and fun to drive adventure vehicle. This small cargo van has been customized for all your camping needs, and is perfect for a couple or solo traveler. It gets great gas mileage and comes with a camp kitchen, lots of storage, and an inverter to keep all your gadgets fully charged.
More Info
Explore. Rest. Repeat.
Gear up for the great American road trip in one of our customized campervans.
Discover the beauty of vanlife as you cruise iconic Western landscapes, make your own schedule, and find the rhythm of the open road. At Native Campervans, we value stories over stuff and believe that the best way to explore is at your own pace. With our fully stocked campervans, we're removing boundaries so you can adventure your own way.

Rent a campervan for your next Colorado, Las Vegas, Phoenix, or Salt Lake City adventure.
Get Inspired

All-Inclusive Pricing
Get more than just wheels. Renting a campervan with us means your kitchen is stocked, bed is made, and miles are included. Oh, and we're here for you if you get a flat. Because we believe surprises should be around the next bend. Not on your bill.
Fly Under The Radar
Modern Campervans without Loud Graphics
Adventure boldly. Arrive quietly. Get there without ruining the view. Our vans are designed to help you travel incognito with minimal logos and no phone numbers, websites, or Rent Me's in sight. Because your trip should be about you.
Best ratings in the industry. For real.
Four Locations.
Unlimited Possibilites.
Your vacation starts the moment you pick up your keys.
With campervans for rent in Denver, Salt Lake City, Las Vegas, and Phoenix, your tour of the American West is full of possibilities. Hike the Rockies, explore the history of the Southwest, and seek out desert vibes in gorgeous national parks. Our transparent pricing lets you travel the entire US and Canada without worrying about crazy fees or out-of-state penalties.
Where to Roam
From redwood forest to desert dunes, these expert-designed itineraries are pure inspiration.
Never Travel the Same Road Twice
One-Way Campervan Rentals
One-way trips are a great way to explore without backtracking. Since we have offices in Las Vegas, Salt Lake City, Denver, and Phoenix, your options are open. Flexible schedule? We often have relocation deals to save you money between our 4 locations.
Relocation Deals
Travel Prepared
Our van camping guides answer the obvious (and not so obvious) questions on your mind.